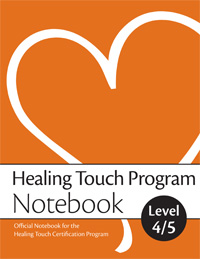 Completion, Celebration & Commitment!
Level 5 is a time of completion, celebration and commitment to continued progress and excellence. Assignments which were completed during the apprenticeship period are submitted and evaluated for course completion. This session is designed to acknowledge the student's work and offer constructive suggestions for continued improvement.
Celebration occurs as the student is acknowledged, appreciated and validated for the dedicated work accomplished during the apprenticeship period. Upon satisfactory completion of all work, the student receives a Certificate of Completion for the Healing Touch Program and achieves the Healing Touch Practitioner status (HTP) an official graduate of the certificate program.
This class also prepares students to understand the international certification process and criteria, an optional step after program graduation. Healing Touch Level 5 assists the student in evaluating their progress and level of commitment to the certification process.
Description
Level 5 is focused on completion of assignments begun in Level 4, the intervening mentorship experience, integration into the community, the establishment of a practice, case management, and professional issues. Requirements for completion of the certification process will be discussed. A session of group healing is included on the second day of class. Level 5 meets during the day as well as in the evenings with breaks for lunch and dinner.

What will you do and learn at Level 5?
Experience how to evaluate the quality and completeness of case studies shared by Level 5 classmates
Experience how to evaluate the quality and completeness of homework shared by Level 5 classmates: documentation of sessions; reflective reports of educational experiences; reflective reports of receiving complementary modalities; reports of community HT activities and Healing Touch networking
Practice presenting your Healing Touch story, work and role through presentation of your professional profile notebook
How to continue your self-development as a Healing Touch Practitioner
How to further develop your Healing Touch Practice and move toward certification readiness, if desired
Discuss professional and clinical issues of private practice in Healing Touch
Explore how to deepen your Healing Touch skills through an energetic experience of group healing with your peers
Discuss the role of Healing Touch Research, the standards of care, code of ethics and scope of practice issues for a Healing Touch Practitioner
Develop an understanding of the Healing Touch Organizations and how they serve students, practitioners, instructors, recipients of HT, and the public at large
At Level 5 you will:
Present your professional profile notebook to class participants and receive constructive feedback on its content and your presentation
Share your learning experiences and self-growth related to completed assignments and hear classmates share their experiences
Receive constructive peer review of your case study
Receive constructive feedback from instructor on your progress in the Healing Touch Program and path toward international certification
Identify issues related to continued development of a Healing Touch Practice, including deeper understanding of the importance of the Scope of Practice and Code of Ethics
Participate in group healing work in the roles of recipient and practitioner
Have the opportunity to network, build relationships and make new HT friends
Celebrate! Celebrate! Celebrate! with your peers
HTP Course Completion: All students attending Level 5 will receive the HTP Certificate of Completion for Level 5. Students with all assignments complete and satisfactory will also receive the Certificate of Healing Touch Program Course Completion, which entitles you to refer to yourself as a Healing Touch Practitioner. Students with incomplete or unsatisfactory homework will have the opportunity to contract with the Level 5 instructor for completion of assignments approved by a designated instructor with a negotiated date. In this case, the student will receive the Course Completion Certificate in the mail once the assignments are completed and approved.

Times: Level 5 normally starts on Thursday evening at approximately 2:00 and ends 2:30 on Sunday. (Some classes start Wednesday and end on Saturday.) Please check your confirmation letter for specific class dates and check in times as times may vary slightly depending upon the location. Plan on attending all sessions in order to receive the Certificate of Completion for Level 5. Level 5 meets during the day as well as in the evenings with breaks lunch and dinner.

Retreat Setting: Levels 4 and 5 are held in a retreat setting to further enhance the interaction, learning and sharing between students, mentors and instructors. Students are required to stay at the retreat center. Exceptions may be made in extenuating circumstances, but must be pre-approved. Please email classes@HealingTouchProgram.com.

Room and Board: Room and Board prices vary depending upon the retreat center. Please call the HTP office at 210-497-5529 or check your confirmation letter for the cost. Payment for Room and Board is due two weeks before the beginning of the class.

Meals: Meals are provided by the retreat center unless otherwise stated. If you have special dietary needs, please notify registration@HealingTouchProgram.com.

Needs for the workshop: Bring items you might need for the healing exchanges you use in your practice.
Level 1, 2 and 3 Notebooks;

Healing Touch Guidebook, Practicing the Art and Science of Human Caring

(new 2009 publication by D. Hover) and a journal
If you own a massage table and can bring one, please call the HTP office 210-497-5529 and let them know that you will provide a table.
You may want to bring music, a stereo, extra pillows, and blankets as well. This pertains primarily to people that are driving to the workshop.
Paper and pen for taking notes.
Layered clothing is recommended as temperature will vary throughout the day and individuals have different sensitivities.

You may want to bring small articles that help you create a sacred space for the treatments that you will be giving. You may also bring an item that represents your healing work to place on a center table for holding energy during the class.
Level 5 Homework Requirements:
Click here for Level 5 Homework Requirements.In addition to bringing your homework, bring your Levels 1-3 notebooks, the Healing Touch Guidebook and Level 4/5 notebook as references. If you do not have the level 4/5 notebook for some reason, please let the HTP office know at least 2 weeks prior to workshop so that we can mail extra notebooks to the local coordinator.
Continuing Education: 30 CE contact hours
Healing Touch Program is accredited as a provider of continuing nursing education by the American Nurses Credentialing Center's COA.
Click here for class schedule.
---
Level 4 and 5 2018 Tuition
Single Class Regular Tuition: $797

Single Class AHNA/HTPA Member Discounted 10%: $717

Additional $100 late fee applies for registrations 2 weeks before a class.

Tuition includes course notebook. It does not include travel, meals or lodging.
Additional program cost: The mentorship process in Healing Touch is a very important aspect of the journey between Levels 4 and 5. After graduation from Level 5 as a Healing Touch Practitioner (HTP), most continue toward Certification as a Healing Touch Certified Practitioner (HTCP). Mentors in Healing Touch are trained through a formal program to support you through the mentoring process. The majority of Qualified Mentors (QM) and Mentors charge a fee for their dedicated service to the mentee. This rate may be from approximately $25 to $100 per month, depending on the mentor. Most mentorship arrangements typically range from 12 to 24 months depending on the student's progress through the learning program.
HTP Guarantee
If within seven days of attending an entire class, you don't feel that you have received any value, you may get your money back. Simply write to the HTP office and explain your situation and we will gladly refund your tuition.