Classes
Advanced Practice 1 & 2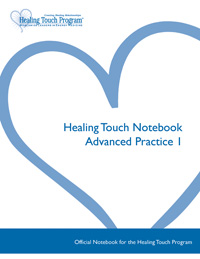 Students who have completed the first three levels of the Healing Touch Program are eligible to take, together or separately, the two part Advanced Practice series. Advanced Practice 1 is designed to deepen and broaden your energy healing skills while learning new methods including the concepts of sacred geometry. Advanced Practice 2 introduces an energetic approach to working with trauma called the Trauma Release Technique. This powerful sequence and method provides relief to clients who are experiencing long term effects from one or more previous traumatic events.
Children's Class Online Instructor Training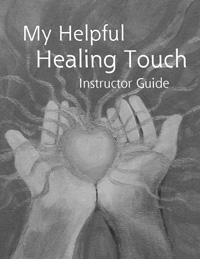 My Helpful Healing Touch instructor training was designed and created for those who want to teach Healing Touch to children, ages 6 to 12. The training tele-seminar is based on the book, My Helpful Healing Touch, a Guide for Empowering Children. The instructors are; Cynthia Hutchison, HTP Program Director and Lynn Placek who are joined by Karen Daughtry and Darlene Nelson, the authors of My Helpful Healing Touch; A Guide for Empowering Children.
When you register, you will receive:
*A link to the two hour recorded tele-seminar
*Links to tools from the back of the MHHT Instructor guide which you can download
*The lyrics for the CD, "Your Invisible Gift" by Steve Skudler.
The following items will be mailed to you:

* The book, My Helpful Healing Touch, a Guide for Empowering Children
* The My Helpful Healing Touch Instructor Guide
* Your Invisible Gift – a CD of delightful songs about energy and healing that correspond to the sections of the book; written and produced by Steve Skudler
Continuing Education Contact Hours: 2
Healing Touch Program is accredited as a provider of continuing nursing education by the American Nurses Credentialing Center's COA.
Prerequisite: Completion of Healing Touch Level 4 or above
Tuition: $120.00 Regular Tuition; $95.00 HTPA/AHNA Members
Class/Program Information

The Healing Touch Program is an international, multi-level educational program in energy based medicine therapy. The Healing Touch Program™ curriculum progresses from beginning to advanced practice. As a professionally accredited program, the curriculum encompasses increasing levels of practice and techniques, code of ethics and scope of practice.
Healing Touch is endorsed by the American Holistic Nurses Association and the Canadian Holistic Nurses Association (CHNA). Practitioners and Instructors are certified through an independent certification process. When one completes the Healing Touch Program (after Level 5), they may apply for certification. Healing Touch Certified Practitioners are recognized internationally as having achieved a professional level of energetic therapy competence. Healing Touch Certified Practitioner (HTCP) credential has become the first Energy Medicine profession to achieve accreditation through the National Commission for Certifying Agencies (NCCA), the accrediting body of the Institute for Credentialing Excellence (ICE).
Energetic Counseling: Self Discovery & Interventions
This course is for the beginning and advanced Healing Touch Practitioner who is interested in refining their therapeutic communication skills and in recognizing the energetic patterns of interactions.
Read more: Energetic Counseling: Self Discovery & Interventions