Uncategorised
Contact Us
HEALING TOUCH PROGRAM™

15439 Pebble Gate
San Antonio, TX 78232

Phone: 210-497-5529
Alternate number 210-951-5633
Fax: 210-497-8532
E-Mail: Click to Submit Email
Web Site: www.HealingTouchProgram.com

Office Hours 9:00 a.m. - 5:00 p.m. weekdays.
Answering machine on after hours.
---
Where to direct your e-mails

The Healing Touch Community Newsletter is a monthly on-line publication that will keep you informed about what is happening in the Healing Touch Community. In it you will find Healing Touch news and upcoming events, new product reviews, continuing education classes, community announcements, and much more! Stay up to date and informed. Subscribe to the Healing Touch Community Newsletter. It is free and delivered to your in-box on the third Tuesday of each month.
Healing Touch Student and Practitioner Transfer Information
Healing Touch Program (HTP) welcomes Students and Practitioners who have taken courses in Healing Touch outside of our program. HTP is the only provider of Healing Touch education that is accredited with ANCC, and that holds the NCCA nationally accredited and board-certified credential, Healing Touch Certified Practitioner (HTCP). We would like to invite you to join us as a student or certified practitioner. We look forward to answering any questions you have and in supporting your process.
Transferring Classes
From June 1 through November 30, 2017, HTP is accepting other Healing Touch classes taken before May 1, 2017 for equivalent transfer. On December 1, 2017, the transfer process will no longer be available.
Download the "Healing Touch Class Transfer Request Form" document for information on transferring Healing Touch classes: HTP_Class_Transfer.docx
Transferring Practitioner Certification
From June 1 through November 30, 2017, HTP is accepting transfer applications for Certified Healing Touch Practitioners (CHTP). On December 1, 2017, the transfer process will no longer be available.
Download the "Healing Touch Practitioner Transfer Information" document for information on transferring practitioner certification from CHTP to HTCP:
Information about Healing Touch Program
Since the early 1990s, Healing Touch has been steadily and strongly emerging as an effective, non-invasive, economical modality for supporting healing of the body, mind and spirit. Research in Healing Touch and energy medicine in general provides growing evidence for the benefits of this energetic healing modality. It is changing the way healthcare is provided. Healing Touch has gained an excellent reputation of developing professional practitioners equipped with both knowledge and skills through its accredited program.
Healing Touch Program is actively participating in supporting the growth, research and reputation of Healing Touch. This has been accomplished through a standardized curriculum, excellent certification standards, developing professional materials to support the introduction of Healing Touch into the healthcare setting. HTP sets a professional standard that reinforces the acceptance of Healing Touch worldwide. If you are practicing in a professional arena as a Healing Touch student, you can be assured that the Healing Touch education you acquire through HTP meets the highest professional standard. Healing Touch Certified Practitioners can be assured that this credential meets a professional standard that carries prestige and commands respect.
Healing Touch Program Buttons
Scroll down to find the button(s) you would like to add to your website.
Healing Touch Program and American Nurses Crendetialing Center(ANCC)
Add the following buttons to your website. The HTP and ANCC buttons must appear together per ANCC requirements. The buttons will appear as in the image below. The image contains a link which will open the conference website in a new screen.
Copy and Paste this HTML code just like you would normal text:
Energy Magazine Button
Please add the following Energy Magazine button to your website. The button will appear as in the image below. The image contains a link which will open the Energy Magazine website in a new screen.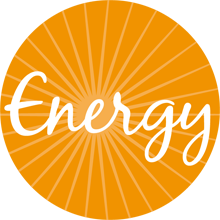 Click to Visit Energy Magazine Online
Copy and Paste this HTML code just like you would normal text:
HT Skylight TV Debut
Healing Touch Makes Its Skylight TV Debut
Ellen Laffey, HTCP, Producer, Healing Touch Skylight Video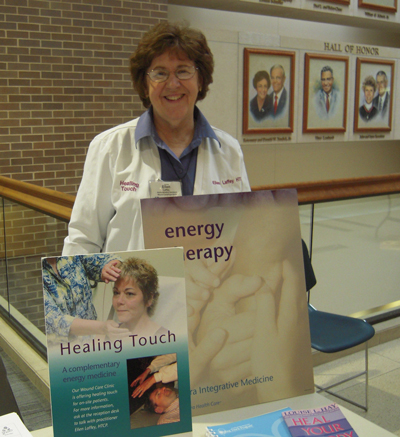 In 2010, I was entering a hospital elevator when I met Allen Stasiewski, MS, RN, RRT, who works in the Office of Patient Experience at Aurora Health Care. (Aurora Health Care is a not-for-profit Wisconsin health care provider and home to Aurora St. Luke's Medical Center.) Allen also manages our system's Skylight Access Interactive Television system. The Skylight system turns inpatient televisions into interactive computers and part of the system is an on-demand video library available to all inpatients.
Allen asked if I was still doing healing work and I replied that I was. We talked about the Healing Touch work I was doing with patients in Wound Care and discussed how important it is to increase awareness about Healing Touch. At the end of our conversation Allen suggested that we might place a Healing Touch video in our Skylight video library and make this information readily available to all inpatients and their families at Aurora St. Luke's Medical Center. At a wonderful chance meeting, an idea was born!
HT PRACTITIONER: Shortly after that, I contacted Rosann Geiser, RN, HTCP/I, whom I met when I was her Level 1 helper. I spoke about the project and invited Rosie to be the practitioner who would perform the Self-Chakra Connection and the Chakra Connection for the video. Rosie was delighted to be a part of the project. Rosie said later, "I saw this as another opportunity to continue Janet's vision of having Healing Touch in every hospital. In addition to all the latest technology and expert care available at this hospital, any patient or family member would have access to this modality to enhance their healing, increase their comfort, and feel calm and relaxed."
HT PLAN: During our planning conversations we selected the Self-Chakra Connection and the Chakra Connection. With the Self-Chakra Connection, the patient could either visualize hand placements or physically place the hands on themselves as they are able while sitting in a chair or lying in bed. Also, the SCC could be used by a loved one anxiously sitting by a patient's bedside who might be in need of their own healing. The Chakra Connection would provide instructions in the treatment and healing for a loved one.
HT VIDEOGRAPHER: Wes Tank is the videographer who works for Jeffrey Niezgoda, M.D., the Medical Director of the Center for Wound Care and Hyperbaric Medicine at Aurora St. Luke's Medical Center, Milwaukee, Wisconsin. Wes previously had taped the testimony of two wound care patients for a video I had presented to the president of St. Luke's in order to request that Healing Touch be available at the medical center. Wes whole-heartedly supports energy medicine and agreed to be our videographer.
HT VENUE: Wes and I decided to tape inside the 8th floor Healing Garden, which has both outdoor and indoor gardens, with the skyline of Milwaukee supporting the backdrop of our video. However, our three schedules never seemed to coordinate for quite some time. Finally in spring, when we were able to meet, we decided to change the venue. Getting hospital equipment to the Healing Garden became a problem. We chose the bay area in the Hyperbaric Department, a section of our department where our inpatients receive care. Privacy screens, a patient bed, a patient end table and inpatient linens and scrubs were available to us here, thus simulating a patient's hospital room. I brought plants, living and non-living, from my home for decoration. I ironed linens and scrubs for our patient, my son Michael Laffey. Thus, the venue was set.
HT SCRIPT: Rosie created an inspired script for the video, so when she arrived, we went to Wes' office to voice record the script. While they recorded, Michael and I set up the bay area for the video. When Rosie and Wes came down to Wound Care, Wes contributed his creative touch, adding flowers and adjusting the angle of the chair and patient bed to set just right. While I read Rosie's script from behind the camera (one can edit out a person's voice I found out), Rosie sat in a patient lounge chair and followed along performing the SCC. Then, while Michael lay in the patient bed, I read the CC script. Rosie and Michael worked together; Rosie worked and Michael slept soundly.
HT MUSIC: At an HT conference that Rosie and I both attended, Rosie introduced me to Richard Shulman, the musician who inspires us with his music at our conferences. Rosie felt the music from his CD, First Rites, would fit our video perfectly. I spoke with Richard and he agreed to allow his music to be the background for the video.
HT SPECIAL EFFECTS: Jason Nanna, a videographer who works with Wes, blended the narration and the music to the video with a great idea for the SCC. When Rosie spoke about the root Chakra, a red film would close in around her outlining her sitting in the hospital chair, and then fade out. Next was an orange film, yellow, and so on as she moved up the Chakra system. Such a fun idea!
HT CREATION: The final video was mailed to Lisa Gordon, and she approved the video for Skylight TV.
HT THANKS: Heartfelt thanks go to Allen for his inspiration in always thinking of our patients first, to Rosie for bravely allowing herself to be videotaped, to Wes for his videography talent, to Richard for his gracious gift of music, to my handsome son Michael for being our patient, to Jason for his creativity, to our Wound Care department for allowing us to use their premises, and finally to Lisa for giving us the go ahead.
May our inpatients and their families receive this special gift of healing during their recovery!
About the author:
Ellen Laffey, HTCP, works as an Administrative Assistant in Wound Care at Aurora St. Luke's Medical Center, Milwaukee, Wisconsin. She has had many experiences working with patients who, sometimes, have wounds that would not heal with regular medical treatments. She has been able to show the amazing affects of HT in healing these wounds and in the pro¬cess, has been able to share this information with many doctors and nurses in her field.