HT in Health Care Settings
HT in Health Care Settings
A First for School Nurses in Colorado State
by Irene Louise Bigot M.S., R.N., HTCP, CSD, SNC
The School Nurses of Colorado have an annual three day state conference in early November. This year it was in Loveland at the Embassy Suites. The President of our Colorado School Nurse Association had taken Therapeutic Touch classes many years ago with Janet Mentgen at Red Rocks College in the Denver area. She has basic energy work knowledge and invited me to do a presentation at the conference.
I wrote a proposal to the committee of this conference. It explained Healing Touch with references to Jean Watson's Caring Theory. The proposal for the Healing Touch Presentation was not accepted. The committee found a nurse from Children's Hospital in Denver to present on Jean Watson's Caring Theory.
I then wrote a second proposal to have space in the exhibitors' center. I called the exhibit "Jean Watson's Caring Theory Manifested in the Practice of Healing Touch". This proposal was accepted!
The exhibit was supported by the Northern Front Range Healing Touch Clinic (NFRHTC) based in Longmont, CO and founded by Nicole Kasemir. We had a table set up with our NFRHTC sign. I also created a three-leaf poster with the title of the exhibit. The center of the poster also had a picture of the human body with the colored chakras and a rainbow of colored rays coming from the body. On each end leaf of the poster was a column of critical words. On one side there were critical words from Caritas. On the other leaf were listed the corresponding critical words from Healing Touch. We had our Healing Touch workbooks and some related special books displayed on the table, these included one by Jean Watson. I created a sacred space on the table with a wax electric candle that burned all day. In front of the candle was a basket with votive tea light candles of various colors and aromas. There was a note in front of the basket that said "Take one please" under that statement was "Shine your light". Of course these were very well accepted. Healing Touch Brochures were also available. My business card was stapled to the back for those seeking further information. There were also sign-up sheets for mini-sessions, classes and other information about Healing Touch.
I was able to go to the exhibitors' area the evening before to make sure our space was appropriate. At first we were near the doorway at the end of a long row of exhibitor tables. Immediately I felt this was not appropriate. So, I explained to the workers at the hotel what I really was hoping for. In addition to the exhibit table, I needed a space to give 10-15 minute sessions of mainly the Scudder Technique and Hands in Motion and/or Hands Still. The workers at the hotel were so kind to go over the entire room with me. They were willing and able to provide a small room with curtains. It had enough space to set up 5 chairs for additional sacred spaces. How wonderful, I thought. We moved our exhibit to the table next to this room. Inside the room we also had healing music: The CD "Sonic Soul – Music For Healing" by Dale Matthics. (This CD is available from www.sonichealing.com).I am very grateful for the Healing Touch Certified Practitioners and those in training who helped by giving their time for sessions and explaining what Healing Touch is about. Besides Nicole Kasemir (center), they were Irene Martin, myself, Brenda Fister, George Anzinger, Kay Tolson, Mary Cox and Cindy Parsons (both front). See our picture.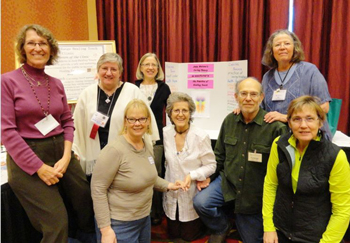 We provided door prizes for 4 free one-hour sessions (valued at $65 each), and a $65 discount for Level 1 Healing Touch Classes. You can imagine the loud cheers from all the nurses when they were given out. This donation was kept on record by the conference organizers.
Eighty-six nurses received Healing Touch mini-sessions. I really was surprised to discover there were nurses who had never heard of Healing Touch. Of course there were some not interested at all. While the nurses were back in sessions, we offered the other exhibitors a mini-session. They were also amazed. Exhibitors were from the Red Cross, Shriner's Hospital, Drug companies, School Nurse Publishing, Immunization from Colorado State Department, National Jewish Hospital in Denver, Colorado's Children Hospital etc. Thirty five nurses signed up for additional information or classes. School Nurses who signed up for more information and classes came from all parts of Colorado. The Nurse Educator from Denver Children's Hospital requested that I present classes there for both hospital staff and the School Nurses based out of that hospital. What another exciting time for our world of Healing Touch! So many folks had the door opened to them about Healing Touch. The Spirit really moved. It was better than doing a presentation which would have been a break out session limited to what the room would hold. I left a message with the manager of the hotel to express our gratitude to the hotel staff who helped me find the right space in the exhibit hall. The exhibit touched so many souls. Thank you Spirit.
Where does this lead? I first have to share what School Nurses do.
School Nursing is a very complex position. Out west we are called consultants because we have multiple-school responsibilities. I have 11 schools and never seem to catch up. The day starts never knowing what will be presented to you. You have your calendar and plans. There are constant interruptions each day as we are called to take care of communicable diseases affecting an entire community, suicide, drug abuse, bomb threats, concussions, chronic health conditions, counseling, being a first advocate for a student, teaching, working with dysfunctional families, setting up emergency teams in each school, supervising the health of each school and creating individual health care plans for critical kids, a teen who is pregnant, homeless students, issues that affect staff and the principals. We work with other school specialists on Individual Education Plans, and Disability 504 Accommodations. We also have medical procedures such as tube feedings, suctioning, tons of medications, etc. We delegate several medical actions to school staff and volunteers. This means the liability of someone giving out the wrong medication to a student or making a mistake performing a procedure is on the nurses license. There have been times when I have had to tell principals "Please find me some else. This person is not safe with this student". Occasionally there is a parent who will threaten you and the school. Talk about a power play. For the school nurse to have correct insight to what is really going on requires her wisdom, maintaining her centeredness and grounding. We live in a world where we need to work with our medical knowledge and know the educational system. There is so much more….By the end of the day, plans on my calendar may not have been touched. This is work that uses all the skills acquired in nursing school and beyond. Situations affect the physical, mental, emotional and spiritual needs of students, families, and staff. Many nurses will not accept this work. I wonder why!
As Janet says "Do the work." I see myself reaching out to other school nurses that I can relate to for teaching and giving healing support. My goal of assisting them to set up their own Healing Touch Circles, the Caritas Theory and connecting them to resources already in their area. This also leads me to the possibility of going to each state that has a School Nurse Conferences as well as the National School Nurse Conference. My intension is to share about Healing Touch and more importantly, to have them work from their Love Center. This focus can easily be lost in such demanding and unpredictable work. The School Nurses are in a perfect position to work with those around them and to make the world grow in a deep place of love by Shining their Lights. They touch so many souls. They are not always conscious of this interaction.
I was humbled by this event and thank the Colorado School Nurses for being open to Caritas and Healing Touch. I feel that the Spirit is leading me deeper into the world of education by opening the hearts of nurses in an energetic loving experience that is new to them. Through these nurses, the parents, and the staff they associate with, these children will be growing up to make this new century a world of kindness, caring, and love. We have come to this world, at this time, in this century, for a reason. The reason is Love, the most powerful energy there is. I ask all of you who read this to keep my intentions for a better world, in your heart.
Introducing New Manual for Implementing Healing Touch in the Clinical Setting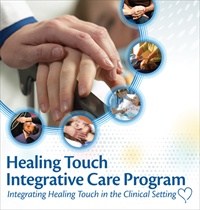 Healing Touch Integrative Care Program: Integrating Healing Touch in the Clinical Setting is a comprehensive manual that provides the structure and necessary tools needed to implement Healing Touch in a clinical setting. It was developed through a collaborative effort between Healing Touch Program and Lourdes Lorenz, RN, MSN, NEA-BC, AHNA-BC, HTP-A.
As Director of Integrative Health at Mission Hospital in Asheville, NC, Ms. Lorenz developed, implemented and coordinates a very successful and sustainable integrative healthcare program that includes Healing Touch and several other modalities. As a long standing endorsed and accredited leader in nursing continuing education, HTP provides the standardized curriculum and professional support that makes Healing Touch a professional modality that is used in healthcare facilities throughout the U.S. Credentialed Healing Touch Program practitioners and instructors are recognized professionals in healthcare today.
The Healing Touch Integrative Care Program (HTICP) manual offers a step-by-step guide that begins with investigation and culminates in creating a sustainable integrative care program that can easily expand to provide Healing Touch throughout the healthcare facility. The outlined steps are flexible and can be adapted for use in facilities that range from small clinic settings through large hospitals.
The manual appendix includes dozens of tools that can be used in all facets of the implementation. It includes a USB flash drive that contains MS Word documents, Excel spreadsheets and PowerPoint presentations that can be customized and tailored for the specific healthcare setting.
The HTICP manual has many applications. It is an invaluable resource for:
Administrators, or individuals, who work in the clinical setting and want to begin an integrative care program with Healing Touch as the foundational modality
Administrators, or individuals, who work in the clinical setting and want to add Healing Touch to an existing program
Individuals who want to approach a healthcare facility about implementing Healing Touch as a new integrative modality, or as an add-on to an existing program.
HTP instructors and practitioners who want to bring Healing Touch to a healthcare facility
The HTICP manual provides:
Guidance on setting the vision and intention for the Healing Touch Integrative Care Program; and gathering pertinent information about the facility and community that will establish the foundation for a successful implementation
Tools for organizing and storing information; and templates for letters, scripts and presentations.
Strategies for:

Developing a strategic plan, business plan and support for implementation
Planning and organizing communications
Engaging stakeholders
Establishing the necessary teams to implement Healing Touch as a pilot program in a specific department

Direction on gathering data that demonstrates the benefits achieved from providing Healing Touch to patients, thereby supporting expansion into additional departments throughout the facility.
The HTICP manual package includes:
350 page color manual
USB flash drive (containing docx, xlsx and pptx files)
Booklet - Healing Touch Scope and Standards of Practice
Practitioner Brochure, Healing Touch Program Brochure, Introduction Booklet - What is Healing Touch?
As patient demand and healthcare mandates call for patient-centered care, the Healing Touch Integrative Care Program manual is the comprehensive tool that provides the process to answer the need.
The retail price is $295 plus shipping and handling.
An Introductory offer of $250 is available to the Healing Touch Program community. (Offer is good through July 31, 2013.) The projected ship date is June 28, 2013.
To order a copy of the Healing Touch Integrative Care Program manual today:
Healing Touch Program
Worldwide Leaders in Energy Medicine
Endorsements:
The Healing Touch Integrative Care Program: Integrating Healing Touch in the Clinical Setting is the most important and comprehensive document ever written about the translational, step-by-step, Healing Touch implementation process. It provides all the evidence and tools needed to begin a successful Healing Touch Integrative Care Program (HTICP) pilot program that can naturally flow to other departments. The many tools and guidelines can be customized to each hospital and organization leading to successful outcomes. This manual is also an important social contribution, because no society can flourish without the essential contributions of nurses. The HTICP can help nurses find their voice and step into their healing power in these chaotic times in healthcare.

Barbara Montgomery Dossey, PhD, RN, AHNC-BC, FAAN, HWNC-BC
Author: Holistic Nursing: A Handbook for Practice (6th ed), The Art and Science of Nurse Coaching: A Provider's Guide to Coaching Scope and Competencies, and Florence Nightingale: Mystic, Visionary, Healer
Healing Touch and this new Manual is a blueprint for Caring Science and Human Caring Theory-guided practices. Healing Touch is a living example of energetic healing as a caring –healing modality consistent with philosophy and ethic of caring. This manual offers the process and the tools necessary to fully incorporate Healing Touch within the clinical setting. As nurses and other practitioners can be guided through this work to advance their healing gifts of touch by advancing caring-healing practices as the antidote for technology and dispirited providers and patients alike.
I highly recommend this comprehensive manual, Healing Touch Integrative Care Program: Integrating Healing Touch in the Clinical Setting, as a vital resource for staff and systems alike, longing for a balancing of high technology with healing touch and compassionate caring.

Jean Watson, PhD, RN, AHN_BC, FAAN
Founder/Director Watson Caring Science Institute
Distinguished Professor Emerita and Dean Emerita, University of Colorado Denver, College of Nursing
Birthing of a Healing Touch Volunteer Program in a Medical Center Setting
By Toni Adsit-Wilson, RN, MSN/ED, RCMT, HTCP, NCTMB
Considering the growth of integrative health care in conventional medicine practice settings, the time is ripe for the introduction of Healing Touch (HT) into health care systems. According to Jean Watson, HT connects clients and practitioners to the field of universal Love, Source, and Spirit, leading to right relationship with consciousness at its highest level. Through scientific research, the benefits of HT with numerous health conditions have been documented (Wardell, 2010). Recognizing the modality's value, a group of HT practitioners decided to introduce a HT program to our local medical center, Poudre Valley Hospital, in Fort Collins, Colorado.
The program involved significant planning, beginning the process in February 2010 with the first sessions provided on April 16, 2012. The health care facility accepted our proposal as a volunteer pilot program to begin in one area of the hospital, the in-patient oncology unit. With a hospital-employed massage therapist on the unit, the oncology leadership and staff are familiar with the benefits of complementary and alternative medicine (CAM). They embraced our proposal as an additional option for patient care.
We initiated our planning with monthly HT meetings to establish program goals, gather information from similar hospital programs, discuss potential challenges, and organize our strategies. Fortunately, two members of our group are nurses at the medical center who have provided HT sessions to patients in the past, and offered valuable information about the institution's operations and values. We found the medical center was more open and aware of HT because these nurses were active in the practice. Having a champion within an organization lends credence to a new program and aids in its integration.
Initially, the hospital requested a research paper with supporting studies to substantiate the value of HT with oncology patients. The paper was written by a member of our group who also provided the names of health care facilities across the country using HT with patients. Next, we developed documents and guidelines required by the hospital: a brochure for patients/families that introduced the modality, a HT Code of Ethics, a description of the volunteer's position and role, a script to be used during the initial contact with patients or family members, and a commitment form to be signed by HT participants.
Once the pilot program was outlined, the oncology leadership team requested a document that provided a detailed overview of the program. This was shared with appropriate hospital staff and oncology physicians. Working with a designated staff member on the unit, an orientation checklist was developed and used to introduce HT volunteers to the unit's layout, patient rooms, signage and required forms, oncology care information, and the unit's requirements of the HT team. Contact HT people were identified for the staff to call if questions or issues arise.
On the oncology unit, a notebook is provided with the program's documents. Several forms must be completed by volunteers for communication purposes and patients' charts. Hospital staff files these because volunteers cannot have access to patients' charts. A notebook with the research paper and research articles is kept on oncology for physicians and staff. Evaluation forms were created and will be used by oncology staff and HT volunteers. Patient feedback cards will help evaluate the effectiveness of the pilot program.
Each volunteer must have completed Healing Touch Level 3. The medical center's volunteer office keeps a copy of the volunteer's course certificate, proof of personal health insurance, and proof of malpractice insurance. The official Volunteer Program orientation must be completed by each HT participant, including current TB tine testing. This is repeated on an annual basis. Any volunteer working in the hospital from December 1st to April 1st must receive the flu vaccine; if refused, the volunteer is unable to interact with patients during that time. Official volunteer attire and name badges are required when working on the oncology unit.
Fortunately, we have one volunteer who is competent with electronic calendars. She monitors online sign-up for volunteer hours and ensures the oncology unit has a hard copy of our scheduled times. Nursing staff determines which patients might benefit from HT sessions and posts this information for volunteers. If volunteers are unable to be on the unit at their designated time, each person is responsible for finding a replacement and notifying the oncology unit.
HT volunteers are not allowed to adjust bed height or settings in the patient rooms. Because we work energetically, our group did not see this as a problem. If patients or families request assistance from the volunteer, such as getting the patient up to the bathroom, the nursing staff is notified. We developed a check-out card for review at the conclusion of HT sessions, ensuring each volunteer leaves the room as it was found (bedside stand, call light, water pitcher, etc.). Typical sessions last 10 to 15 minutes, and if there are no patients identified for the scheduled volunteer's time, we are encouraged to offer short sessions to family members or available staff.
Although the preparation and initiation of our HT Volunteer Program has taken significant time and energy, hospital leadership and staff want it to succeed. If the pilot is successful, the intent is to expand the program to other patient care areas within the medical system. The pilot is scheduled to last approximately three months prior to the evaluation process.
It's exciting that 18 volunteers are providing sessions to patients. Each person can sign up for one to three hour slots of time based on their availability. Due to schedules of patients and treatments, we are allowed on the unit from 1 to 6 p.m., seven days a week. All slots may not be filled every day, but we hope to be as visible as possible to serve the oncology patients and integrate HT into the medical center's options for care. We plan continued meetings with our HT group and oncology leadership to hone the program's effectiveness. It is an exciting time!
Toni is an RN with a Master of Science in Nursing. She is a registered certified massage therapist, and a Healing Touch Certified Practitioner. She has worked in CAM and holistic healthcare for twelve years, including development of health care educational materials for nurses, physicians, and patients/families. Her passion is the development of CAM programs and their integration into conventional health care systems. She believes health and wellness education encourages people to maintain good health habits before illness and disease appear.
Healing Touch and Healing Touch Program™ Highlighted in Alternative and Complementary Therapies
By Kathy Moreland Layte, RN, MScN, HTCP/I
According to Julia Chapman, assistant editor for Mary Liebert Publishers, "Alternative and Complementary Therapies provides the most authoritative, evidence-based, and practical information for integrating alternative therapies and approaches into clinical practice or hospital integrative medicine programs. The journal offers the latest clinical guidance and research in Complementary and Alternative Medicine as it relates to the prevention and treatment of chronic illness, mind/body approaches to disease management, and clinical applications of CAM therapies." This past December's issue (doi:10.1089/act.2012.18609. vol. 18 No. 6), carried Dr. Jane Hart's exploration of the advancement of Healing Touch, Therapeutic Touch and Reiki in the medicine community. Among the biofield practitioners showcased in the article were Cynthia Hutchison, Program Director of Healing Touch Program™ (HTP™), and Kathy Moreland Layte (yours truly), co-chair of the Research Advisory Council for HTP™. Both shared knowledge and experiences of how HT has progressed over the past decades making it more acceptable in mainstream medicine.
Cynthia recalled how in the early 1990s, she very subtly provided Healing Touch in hospital settings (as many of us did because energy therapy was not accepted in most health care facilities), while also confident in the impact the "work" was having with patients and families. She feels that the increasing demand for gentle, low-cost therapies that treat the body, mind and spirit and promote wellness is one of the main reasons that biofield therapies (HT, TT and Reiki) have become more acceptable in the medical community. They are now practiced openly and receive respect as a complementary therapy. The fact that over the past decade, almost all medical schools have an introduction to integrative/ complementary therapies and are introduced to some form of biofield work has also helped to de-mystify energy medicine practices.
Standardized delivery of curriculum and improvement in credentialing and certification processes in biofield therapies has also helped open doors of possibility to healthcare facilities. HTP's national accreditation through the American Nurses Credentialing Center (ANCC) and expected accreditation with the National Commission for Certifying Agencies (NCCA) are examples of how credentialing has changed the acceptability of biofield practitioners in conventional/ allopathic practice arenas.
Through my interview, I spoke to the improvements in the quality and number of randomized clinical trials in biofield therapies but particularly Healing Touch over the past ten years. Quality evidence in outcomes of interest (pain, anxiety, length of stay) is making headway in reducing skepticism and the view that the positive outcomes from HT are from mere chance alone (placebo effect). I highlighted four of the best studies that support HT practice.
Jane Hart, a physician, concluded her article stating that energy medicine has progressed in the medical community but still needs to overcome more barriers to continue progressing toward becoming mainstream. More and better research evidence, funding, and insurance codes that supports the work and practitioners of the work are still needed to continue this progress in all forms of biofield therapy. Healing Touch Program™ was showcased as one of the educational and professional practice leaders in this movement.
Hart, J. (2012). Healing Touch, Therapeutic Touch and Reiki: Energy medicine advances in the medical community. Alternative and Complementary Medicine, 18 (6), 309-313. doi: 10.1089/act.2012.18609