HT Worldwide Foundation
HT Worldwide Foundation
HTWF Grant Supports Hospice by the Sea, Inc.'s Aloesēa Program

A report from Stefanie McKee, Ph.D.
Senior Director, Program Development & Analysis
Hospice by the Sea, Inc.
The Healing Touch Worldwide Foundation (HTWF) has generously provided continued support to Hospice by the Sea Inc.'s (HBTS) Aloesēa Program.  HBTS, a not-for-profit, community-based organization, provides hospice care, palliative care, caregiver support, bereavement counseling and home health agency services throughout Broward and Palm Beach Counties in South Florida since 1978.  The goal of HBTS' Aloesēa Program is to heal heart, mind, and spirit.  Complementary therapies, including Healing Touch, are part of the program.  
Our first HTWF project assessed barriers to our hospice nurses participating in Healing Touch.  Nurses are professional caregivers to patients and families and often do not take time for themselves. Despite availability of Healing Touch on-site at HBTS at no-charge, few nurses participated.   

A survey was administered to our inpatient hospice unit nurses.  The goal was to use survey feedback to develop a program to increase understanding, acceptance, and utilization of Healing Touch to promote self-care.  The program combined education about healing touch along with convenient 10-15 minute "stress buster" Healing Touch sessions, offered at the nursing station.   
Brief sessions in their work area resulted in increased utilization of Healing Touch.  Decreases in stress, fatigue and pain were reported.  Increased understanding and acceptance of Healing Touch resulted in nurses recommending Healing Touch for patients.  Nurses reported positive effects in their workday and saw the importance of self-care.  Since this project, we have continued to increase utilization of Healing Touch throughout the organization.   

Our second HTWF project focused on family caregivers in the community who provide unpaid assistance to loved ones who are chronically ill, disabled, or elderly.  Family caregivers often neglect their own self-care.   A caregiver who takes care of him or herself – mind, body and spirit - will be a better caregiver for their loved one. 
The goal of this project was to use Healing Touch to enhance the well-being of caregivers. We promoted Healing Touch at health fairs, community expos, and caregiver conferences.   Information was provided about Healing Touch sessions offered at our Boca Raton and Fort Lauderdale Aloesēa Centers. 
Utilization of Healing Touch sessions was low, as it was difficult for caregivers to travel to the Centers due to caregiving responsibilities.  To make Healing Touch more accessible, our practitioners offered "stress buster" sessions on-site during the events.  Despite the busy environment, caregivers were able to detach and relax. Decreases in anxiety, depression, stress, fatigue, and pain were reported.  Blood pressure also decreased.  We had a waitlist of participants and were always last to leave the event. It was amazing to watch the transformation in caregivers after they received a session!
The newest HTWF project will offer Healing Touch "stress buster" and 60-minute individual sessions in a Continuing Care Retirement Community (CCRC).  Healing Touch will be offered on-site for all residents, including caregivers and patients.  Our goal is to increase awareness and utilization of healing touch with individuals who can benefit from a non-pharmacologic approach to symptom management.  This project is currently in the initial implementation stages.
For all of the above projects, sessions were provided by Healing Touch practitioners employed by HBTS as well as volunteers. 
We are grateful for the support of the HTWF as well our President and CEO, Paula J. Alderson, who recognizes the benefits of Healing Touch for hospice staff, family caregivers, and the general community.
For more information about Aloesēa and other Hospice by the Sea programs and services, please call (561) 395-5031, or visit www.hbts.org.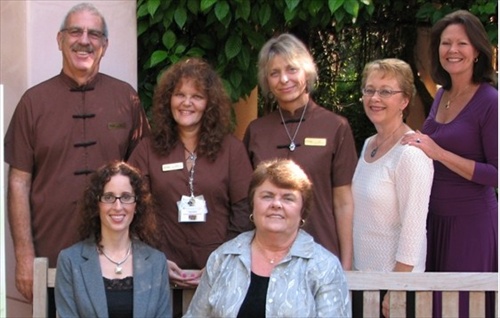 Members of the Aloesēa Team
(Back row L to R) Bruce Schumer, L.P.N., Jennifer Wasserstrom, R.N., Janet Siniscalchi, R.N., Marilyn Sherman, R.N., Mary Ann Watson, R.N.
(Front row l-r) Stefanie McKee, Ph.D., Senior Director of Program Development and Analysis, Paula J. Alderson, President and CEO, Hospice by the Sea, Inc.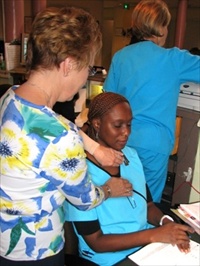 Marilyn Sherman, R.N, providing a Healing Touch "stress buster" to a nurse in our inpatient hospice unit.
HTWF - Considering a Donation to the Right Cause
By Ann Cathcart BSN, RN, HTCP, HNB-BC and Tina Devoe RN, HTCP/I
It was late February 2011, we had just returned from our annual Healing Touch Worldwide Foundation board meeting in Houston. We were energized to raise considerably more funds to support the cause we love - spreading Healing Touch worldwide. Funds from the Foundation provide grants for Healing Touch research to validate the work, outreach projects, and foreign instructor support. How do we spread our enthusiasm to others to choose HTWF as a cause to support? We explored all the reasons why HTWF was 'The Right Cause' and adapted an article from Sarasota Magazine, "Before You Give" for the Foundation. This article ran in the March 2011 issue of Energy Magazine. Click here to access the issue.
There are ten questions to ask when choosing a cause to support. Here are 10 answers why Healing Touch Worldwide Foundation is the right cause for you.
Are you passionate about the mission? Janet Mentgen, founded the HTWF in 1997 after one of her patients received such healing she was moved to donate a large sum of money. Janet knew that research would validate 'the work' especially with the skeptical medical community. Healing Touch practitioners around the world continue to support this mission: To receive and distribute funds to assist, encourage and advance the philosophy, objectives and techniques of Healing Touch.
Does the Organization have 501(c)(3) status with the IRS? This is stated at the outset on the home page of the Foundation's website. Link: http://www.htwfoundation.org This designation with the IRS lets the donor know that the foundation answers to the public, provides tax incentives to donors, and has a non-profit and charitable purpose.
Has turnover been excessive over the last few years? The HTWF began with a small board and was expanded with the goal that many hands can create many fold. Bonnie Kelly Morrow guided the board for more than seven years as chair with the able support of her husband Norm Morrow, now our current treasurer. Our current board president is Karen Chin. Click here for bios and current terms of office on the HTWF. Link: http://www.htwfoundation.org/about-us/board-members. We're always looking for committee members. It is fun and rewarding to be involved in a great cause.
Does the organization make financial information readily available online or by request? The Foundation's financial statement has always been available by request. Annual reports are available on the Foundation website. Transparency is a critical consideration when choosing a philanthropic cause.
Are there similar organizations in the community and if so, how is this nonprofit different? Of course there are many charities and non-profits but few advancing the work of energy healing and integrative medicine. Healing Touch is the leader in energy medicine. Janet Mentgen, founder of HT, pioneered this work with the goal that it be professional. HTWF advances this professionalism through research in the new science of subtle energy healing.
What has the organization achieved over the last year, and what are its long-term goals?  HTWF is the benchmark for excellence in funding Healing Touch research and outreach programs, spreading Healing Touch to communities throughout the world. This is the vision. All HT and other energy medicine practitioners have a stake in the advancement and acceptance of this potent and effective healing modality. This will occur when Healing Touch is a household word and evidence of its effectiveness is published in prestigious, peer-reviewed journals. The Foundation raises and distributes funds to help advance these achievements. HTWF set up a strategic plan for the longevity of the Foundation. Fundraising has exceeded the intended goal set for each of the past four years.
Will my contribution make a difference? Of course! There is very little overhead expense with this foundation as there is a volunteer Board and minimal administrative costs. Donors may make donations to the General Grant Fund, or specific designations for animals, the Janet Mentgen Fund, or HTPA Fund for support for volunteer services and projects.  Some donors give as a tribute to a mentor or instructor or in memory of a loved one or pet. The Foundation's progress is reported at the worldwide HTP conference, regional conferences, periodically on the website, and monthly through HTP monthly community news.
May I see your Donor's Bill or Rights? This is a wonderful document developed by the following organizations: Association of Fundraising Professionals (AFP), Association of Healthcare Philanthropy (AHP), Council for Advancement and Support of Education (CASE), and Giving Institute: Leading Consultants to Non-Profits. AFP has given HTWF permission to post this document on our website.
Is there 100 percent participation from the board in giving? The HTWF Board is passionate about our cause. Otherwise, we wouldn't be leading this movement. Some tithe to HTWF because it benefits and feeds them spiritually. In 2010, the organization began a commemorative gift for donation program. A special charm is the Foundation's gift for a $50 or more cash donation. Click here to make a donation now. Link: http://www.htwfoundation.org/donate-now Everyone on the Board has collected these limited edition pieces plus gives significant donations to the live and silent auctions at the HTP conferences.
Is there a commitment to Professional development of staff and board? HTWF board members have many years of experience working or volunteering in the non-profit organization field. Be assured that we keep abreast of trends and best practices for our HTWF work to be strong, stable, and successful.
Imagine
By Timothy A. Nickel, MAT, MAR, FT
John Lennon sings to us, asking us to imagine. I ask you to do the same …
Imagine a 55-year-old woman requesting to renew her wedding vows. Imagine the woman made this request to a hospice chaplain two days before she died. Imagine that the evening before she died, she not only experienced the renewing of her wedding vow ceremony, but she felt the sacredness of Healing Touch in the presence of her husband and five loving family members. Imagine knowing her wish was granted before she passed the following morning.
The wedding ceremony was simple, taking place with her lying in her bed, her husband lovingly holding her hand as he stood by her. Traditional wedding vow wording was spoken in a hesitating and intentionally slowed-down manner so all could be absorbed by the woman who was in a tenderly fragile state of dying. How poignant were the words: "In sickness and in health, 'till death do us part." The gentle music of "The Beloved," by Beverly Rieger, filled the empty space between the words. A faux diamond ring from the first floor gift shop was slipped over her finger, and one of the last kisses the husband would ever give to his wife was placed upon her lips.
Out of the sacred silence at the conclusion of the wedding vow exchange, the offer of Healing Touch was given. The saddened and tearful husband encouraged his wife to accept because he had watched his wife receive it, as he, himself, had received it from volunteers in previous weeks. The Healing Touch apprentice placed herself at the head of the bed and invited the husband to shadow her movements from the end of the bed. The five family members, who had no real understanding of Healing Touch, were invited to follow along and "do the work of healing." Within 30 seconds, a chain reaction of Healing Touch Chakra Spread movements had synchronized, and there was movement-as-one choreography.
For three pure, repetitive rounds, Chakra Spread was given as a gift to the young woman who, now in silence, lie in her bed, renewed in marriage and transitioning to a new world she could not explain to those surrounding her. Though the clock indicated an hour of time had passed, it seemed nearly impossible, for each participant felt as if he had held his breath for the entire time. They collectively exhaled and exited the darkening room, leaving a loving husband with his dying wife. Imagine.
Imagination is an important part of Healing Touch - the capability to see, hear, feel, smell and even taste that which is not readily available to the ordinary senses. This use of imagination is key to those who practice Healing Touch, for it gives meaning to their experiences and helps them make sense of a dimension of the world that often does not make sense. In the new quantum world of science, believing is seeing. The act of creating starts within the mind.
"Imagination is more important than knowledge. For knowledge is limited to all we now know and understand, while imagination embraces the entire world and all there ever will be to know and understand," Albert Einstein said.
Imagine once more …
An elderly woman lies dying in her bed. Sacred music permeates the room - airy, ethereal - encouraging the dying woman into the stage of transitus, the transition from this world to the next. The room is also filled with the presence of love. Eight family members sit in anticipatory relaxation, some talking, some pondering, all watching what the next breath will bring, if there is a next breath. Enter two Healing Touch students. The family is familiar with energy work and welcomes the opportunity for Healing Touch.
The Healing Touch students slowly and reverently begin with magnetic passes. The rhythm of their movements follows the rhythm of the music. A certain mesmerization descends upon everyone in the room. The Healing Touch students move on to the Chakra Connection, and the presence of Spirit is palpable in the room. Breathing synchronizes as individual bio-fields grow in size and seem to overlap. As the session concludes, there are simply smiles and tears. One daughter finally speaks: "I had knee surgery a week ago, and I have had pain ever since. My pain is now gone!" Her statement seems to surprise no one in this moment. They gaze upon the elderly woman, and she is radiant.
Imagine all the people, living life in peace.
Timothy Nickel is a Level Three Healing Touch Student. He is the chaplain at Masonic Village Hospice in Elizabethtown, PA. He has a master in religion and in thanatology, the study of death and dying. He is working to promote an integrative approach to care in both the hospice setting and on the Masonic Village campus, an 1800 resident continuing care retirement community. He along with his wife Tammy, HTCP, and Jackie Page, HTCP/I were instrumental in securing the grant from Healing Touch Worldwide Foundation, Inc. and are responsible for giving the project its forward moving momentum.
Healing Touch Worldwide Foundation Grant for Research
Healing Touch Worldwide Foundation Grant for Research
By Jean S. Pruett, D.Min, LPC, NCC, FBPPC, HTCP/I
What an exciting time for Healing Touch Program - and I am so blessed to be a part of it! At a recent Spiritual Retreat for HTP Instructors and Practitioners, held at historical Shadow Cliff at Grand Lake, CO, another historic event occurred. Forty-six of us were privileged to be part of a research study entitled Experiences of Spirituality by Healing Touch Practitioners.
The Principal Investigator for this study is Dr. Monica Nebauer, RN, PhD, who is associated with the School of Nursing, Midwifery and Paramedicine at Australian Catholic University in Banyo, Australia. Our very active and supportive Healing Touch Worldwide Foundation awarded Dr. Nebauer a $5,000 grant to conduct the study. We all got to celebrate this together which added to the joy of being able to actually participate in the study. (Pictured left to right: Bonnie Morrow, Monica Nebauer, Ann Cathcard, Roberta Davis Lewis.)
An important part of the study, in addition to the survey several of us completed before arriving for the retreat, was meeting in small focus groups of six to eight during the retreat. In these groups we responded to a set of 10 questions in discussion format regarding our personal and professional experiences with Healing Touch and the spiritual dimension.
The questions were both thought-provoking and challenging and provided each of us with an opportunity to reflect and share with our colleagues our thoughts, impressions, questions, struggles, celebrations, etc. regarding spirituality and the practice of Healing Touch. The focus groups were a highlight of the retreat and contributed to the over-all sense of heart-centered community that we each seemed to feel as we shared with one another our hopes and dreams for the future of Healing Touch.
My hope and belief is that this research study which Dr. Nebauer hopes to publish in 2014 will help propel HTP even further into the role of "Leaders in Energy Medicine" and assist in expanding Healing Touch into our multiple and varying faith communities, as well as health care facilities. With this, Janet's dream will be even closer to becoming the reality she always knew it would!
Healing Touch Nepal Trip
By Tim McConville, HTCP/I
This report outlines the mission of Tim and Pam McConville to Nepal, which was graciously funded with a $ 3,000 grant from Healing Touch Foundation. The grant paid for most of the air travel to / from Nepal. All additional trip expenses and teaching time was gifted by the McConvilles.
Our mission to Nepal was to help expand the ability to reach more students of Healing Touch. Aparna Bhatta has been teaching HT Level 1 for a little over a year now and has taught more than 150 students in Nepal and India. She is certainly a dynamic force for spreading Healing Touch and other community health improvements. As well as the students she has trained, there are many students from the previous instructor visits that want to advance in training. Some of the students have been waiting for years to get a level 3 class. Our plan was to train Aparna for teaching level 2 and also provide a level 3 class. The level 3 class provided the foundation for Aparna's level 3 training, so that she can also provide level 3 classes eventually. Her goal is to spread Healing Touch into developing countries. Hopefully we can continue to support and encourage her work.
We departed from Minnesota on April 1st, 2012, arriving in Kathmandu, the capital of Nepal, on the 3rd. We took the first day as a chance to rest from the long flight, with a bit of exploring the local Buddhist temples and monasteries. The next day began the training and preparing Aparna for the level 2 material. The first level 2 class started on our third day in the country. Classes were spaced a few days apart, giving us some time to explore the rich Nepal culture.
The first class was a level 2, which was held April 5-6 at a resort a few hours (only 20 miles) from Kathmandu, in the surrounding hills. This beautiful setting allowed the students to stay overnight and allowed more flexible class scheduling. Ten students participated in the first class. The students were chosen because of their grasp of English, so that the class could be taught in English with occasional clarifications in the Nepali language. The weather was good, which allowed us to use the outside patios for some of the hands-on portions of the class. The stunning views and soaring eagles provided a wonderful backdrop for the exercises.
Transportation to the remote resort was a bit difficult for some students, so the second level 2 class held April 9-10 was moved back to Kathmandu in Aparna's office. This class was her solo experience with nine students. These students were not as proficient in English, so the class was a mix of Nepali and English language. The city environment was quite different from the resort, with the hustle and chaos of the city providing a noisy backdrop.
Each of the level 2 classes had a different character. Both went quite well with the students grasping the level 2 material. They were all quite enthusiastic about putting it to use. Many of the students have a medical, mental health or Ayurvedic background, and have been actively using the level 1 techniques in their practice with good results.
The level 3 class was held April 13-14, again at Aparna's office. Eight students participated in this class. We had planned on nine students based on the space, although about 20 students were begging to be included. One of the students had waited five years to take level 3. This class had a mix of English proficiency, so the class was taught in English with considerable clarifications in Nepali, especially some of the more difficult to explain spiritual concepts.
Although the Nepal students all are raised with the ideas of a chakra based energy system, the level 3 concepts introduced a slightly different viewpoint and vocabulary. The students came from a variety of ages and backgrounds, most with some higher education. The class included an Ayurvedic doctor and an Ayurvedic pharmacist. The class had some lively discussions, sometimes in three languages. Again they were eager to put the new skills to work in the community and also asking for level 4.
This teaching experience was a wonderful exercise in flexibility and patience. We had to adapt to very different notions of timeliness and focus more on the core techniques. Often the setting was less than ideal, with only partial access to decent treatment tables and distracting noises in the city. The students are not as likely to read the English language texts and readily gravitate to the table work. We realized the strong need to have the texts, and documentation forms all translated into their native tongue. The Nepali people have a deep spiritual base which made teaching the concepts easy. The students were a delight to be with. It is reassuring that the Healing Touch work bridges cultural differences and can be the same anywhere in the world. I think the culture they live in more readily accepts alternative therapies such as Healing Touch. That, coupled with the lack of good allopathic medical facilities, creates a situation which will allow a more rapid expansion of the work and a tremendous opportunity to impact people's lives.
During our time we were able to visit a rural hospital where we stayed the night in guest quarters. The hospital serves a wide geographical area and is equipped with minimal modern tools. In that setting, Healing Touch is being effectively used to improve patient care. We also had the opportunity to experience a few Ayurvedic therapies, as well as visit an Ayurvedic herbal clinic. These health care settings are quite different from the clinics we see in the states, however the care was very personal and heart centered. We both feel honoured and blessed to have had this experience added to our life journey.
Aparna is a humble and generous woman. She sent us back loaded with Nepali items for the Foundation to sell and auction at the Regional and National Conferences. Her goal in doing this is to repay Healing Touch Foundation for their generosity and commitment to Healing Touch Nepal. She has an endless fountain of ideas on how to spread Healing Touch throughout Nepal, Asia and actually the world. She is an inspiration and a gift to us all.