HT Stories
HT Stories
A Gift in Passing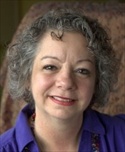 By: Donna Marie Adams, RN, OCN, HTCP
It was a time in my life that I knew some day would come, but was not prepared for it to happen so soon. My mother, Helen Ryckman, who suffered from emphysema for years, was admitted to the hospital for the last time for care.
I flew home to South Florida as soon as I got the word that I was needed. That was Friday. I struggled with the idea of having a talk with my siblings about hospice and prayed that the conversation would go well. I say this as I had to have the same conversation 7 years before when my father passed away and they couldn't embrace the talk. Needless to say, it was a difficult time then.
I arrived at the hospital and my younger sister, Mollie, was there and told me that we had a meeting with the hospice nurses at 230 that afternoon. I took a deep breath and thanked the Universe for stepping in at a difficult time.
I entered Momma's room and my niece, Kourtni was there with her. I kissed Momma on her forehead and immediately started to do a Chakra Connection while Kourtni watched me. She didn't ask any questions, just watched as I did the work. Afterwards, she said "That was Healing Touch wasn't it." I replied yes, and she thanked me and said she thought Nanna looked peaceful. I was able to be with my mother for the next hour and a half alone and spoke to her and let her know that we would all be okay. She was not in a conscious state but I knew she could hear me speaking to her. I assured her that she could transition and be with my dad, my two older brothers and my husband and all of her family that she had lost in life.
We engaged hospice and moved Momma to the Oncology ward. The transfer from one floor to the other brought her to a state of agitation. I immediately started to perform Magnetic Passes: Hands in Motion and spoke to her softly and said "Momma, it's okay, I'm here, work with me and know that we can bring peace to you again." While completing Hands in Motion, one of the Oncology nurses walked in and smiled at me. My older sister, Kathy, asked if I was concerned that the staff would think I was performing "witchcraft" to which I replied, "Why does it look that way?" She stated yes and I told her that I was positive that the staff was familiar with Healing Touch. My sister was amazed at how peaceful and relaxed our mother became while completing the work without the assistance of medication.
The next morning, Saturday, Kathy called and told me that the nurse had asked who the woman was that was doing Healing Touch on our mother. Kathy replied that it was me, an Oncology nurse who was also in the apprenticeship period of Healing Touch. The nurse stated that she was familiar with it, thought it was one of the most beautiful things a daughter could do to help her mother through the end of life.
I thanked Kathy for sharing that with me and told her I wanted to do a Chakra Spread on Momma that morning. I explained that it would help her transition from this earthly plane to the heavens. She said she was okay with that after seeing what happened the night before. I went to the hospital and while my two sisters, brother, sister-in-law and nieces were there I began the Chakra Spread with soft music playing by my mother's ear.
My family watched as I did the Chakra Spread quietly. I was surprised as most of them have never believed in what I have discussed with them before about Healing Touch. While working with Momma, I had such a sense of immense love, longing, and peace that I knew this was what she needed to help her transition. It was such a beautiful moment in life to be able to do this for the woman who created me, guided me and loved me without judgment all of my life.
Shortly after, I noticed the changes happening which occur when one's life is leaving this earthly plane. My siblings didn't want her to die alone. I knew in my heart that she wasn't going to be able to transition, yet at the same time honored their wishes. I went home to my sister's house that night, fully expecting a call in the middle of the night that she has passed.
Upon awakening Sunday morning, I called Kathy and asked how Momma was doing. There was no change from the previous night. I told Kathy that I had something to share with her that she might not want to hear but felt the need to tell her and my siblings. I explained that there was too much energy in the room for Momma to transition and that I needed them to consider leaving the room as I knew that she was not able to transition with everyone there.
Momma was a private person, she loved to give gifts and see the joy of giving, but she was uncomfortable receiving them. She loved to crochet and afghan amongst her other crafty works and it was her greatest joy in life to share her creative talents expecting nothing in return. A few minutes after I had that conversation with Kathy, the same nurse from Friday night stopped by and told my sister that she has a lot of experience with death and dying and that she felt that my mom wouldn't transition with everyone in the room.
I met them at the hospital, kissed Momma on her forehead and assured her that we would all be okay, that she needed to go peacefully and be with Daddy, James, Chuck and my husband, Shelton.
We all left her room after saying goodbye. Thirty minutes later, my brother, Danny, came over and said that they had called to say she had passed. We went back up to her room and each said our goodbyes one last time.
I miss her terribly, yet feel so blessed to have had such a wonderful mother and to have been able to help her transition through Healing Touch at the end of her life. It is the most precious gift to have bestowed upon oneself.
Blessings from Beyond ~ Building a successful Healing Touch Practice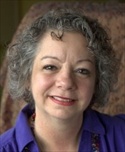 By: Donna Marie Adams, RN, OCN, HTCP
My Healing Touch journey began in November 2000 when I received a request from my husband's Oncology nurse, Chris, to attend a Level 1 class in Boca Raton, FL. I had lost Shelton to his battle with metastatic colon cancer that April. Chris was not only a wonderful oncology nurse, but became a close friend of ours and thought I would benefit from attending the class. That Level 1 class changed my life.
I went back to school after I lost Shelton and became an Oncology Nurse. My nursing career has been very blessed in so many ways. My previous career with Shelton and his business partner was building "Dream Homes" in the Chicago area. Never in a million years did I think I would be a nurse, let alone an Oncology nurse and a Healing Touch Certified Practitioner. Out of something tragic in my life, came the greatest gifts one could receive.
In December of 2010, I decided that I wanted to pursue the Healing Touch Program further. I took Level 3 in Wilmington, DE in March 2011 and was hooked! I continued on to Level 4 with Chris is July 2011 and then on to Level 5 in October 2012. I received certification status in January 2013.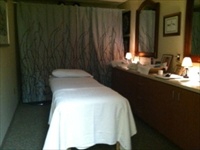 I began providing sessions to our patients in our treatment room back in December after I graduated from Level 5 with the support of my Assistant Department Head. In January of this year, I was provided with a private room in our Gynecological/Oncology (Gyn/Onc) suite to administer sessions. I was gifted a treatment table by one of my senior practitioners at our local Bethesda, MD Church Healing Touch Clinic and have created a quiet and tranquil space for the sessions. I will share that everyone who enters, finds it soothing and I use lavender oil (lightly) in the suite. Most of the doctors and nurses, as well as, the patients absolutely love it. It is commented on a daily basis.
My colleagues have supported the program and I have received numerous referrals from the Internal Medicine Clinic for Wounded Warriors, my oncology physicians and the Gyn/Onc practice. I provided a Healing Touch presentation back in January to the Gyn/Onc practice and have been asked to provide one in April to the Surgical Oncology practice as well. I will share that the Gyn/Onc presentation was very well received.
On average, I have been seeing anywhere from 3 to 8 patients a week and continue to do so. I currently have approximately 15 continuous patients that I see on a regular basis. My practice at the hospital continues to grow and referrals are coming in rapidly. I have provided a few inpatient consults as well to our Hematology/Oncology patients at their request.
I can't put into words how much Healing Touch and the individuals I have met along my journey mean to me. It is truly a blessing from beyond and an honor to be a part of such a wonderful, loving, supportive community.
Coming Out of the Spiritual Healing Closet
By Stephen P. Sutton, MD, FACS, HTCP
I am a Urologist practicing in Northwest Ohio. I am also a HTCP! As soon as I received notification and my certificate this past Fall, I proudly forwarded it to the Medical Staff Offices where I practice. Within a few weeks a Physician at my primary hospital, St Charles Mercy, approached me about giving a talk at a weekly CME Medical Grand Rounds. After earning my Certification I'd been searching for ways to maximize its impact, so when the Universe presented this opportunity to me I sure wasn't going to turn it down. I'd already presented a Nursing Grand Rounds but this was going to be my first chance to go LIVE with my peers. So on Friday January 17, 2013, I gave a talk titled Healing Touch to a nearly packed house.
The free eats and CME credit notwithstanding, there was an above average turn-out with physicians of all ages and specialties. My talk began with a brief overview of CAM and its current place in our pantheon of Health Care modalities. I opened with a description of a Healing Touch experience from over 15 years ago. As a Level 1 "newbee", I had slipped unnoticed into the ICU room of one of my doctor buddies. He was in a coma, dying from cancer. I simply stood there not touching him or uttering a word, lovingly beaming him healing energy as I'd recently learned to do. After about a 10 minute draw, and without Tommie responding even a twitch or uttering a sound, I slipped out of the room, again unseen. A few weeks later at the wake, upon approaching his wife Shawn she pulled me aside and told me that "Tom had woken up one day and happily said you had come in to pray for him and make him feel better, and it did." Needless to say I was blown away - talk about positive reinforcement! I'd discovered firsthand that HT did indeed work, even if the immediate effects weren't always visible. I spent the rest of the presentation discussing all of the ramifications of Healing Touch, including a variety of published scientific articles.
The question-and-answer was quite spirited. Had I had more time I would have had the crowd pick partners and sample their energy fields and even brief energy exchanges as I had done with the Nursing Grand Rounds. As it were, I responded to one Doctor's question of, "What do you actually do with this Healing Touch, you never explained it" by first standing there beaming him energy with open hands, then coming up behind him and running energy with both hands on his shoulders. I explained to the attendees that HT includes over 30 combinations of positioning our hands moving or still. I finished with a pitch for a Level 1 being taught at our hospital, St Charles Mercy, late next month by Barb Starke that I'd be helping at. Overall the nurse coordinator was very pleased. Not only had I received very good evaluations, only three participants had left early. She even asked me what I thought about speaking at the other two Mercy Hospitals in town. I told her to sign me up, who am I to turn the Universe down?
I'd like to thank three people for helping me make this talk a reality: Kathy Moreland Layte, HTCP/I, who sent me the guts for my talk including some excellent cartoons; Barb Starke, HTCP/I, my Mentor, who referred me to Kathy and assisted me energetically; and St. Charles Nursing Educator, Sue Wolfe, computer wizard and power point extraordinaire, who helped me fine tune my presentation. Thank you one and all. And thank you Universe for seamlessly providing me with this opportunity! May it never end.
Sandy Hook Healing Project

By Tinker Sanford, HT Practitioner Apprentice
The tragic events of 12/14/12 left many of us feeling numb. How and why did these senseless acts occur? Immediately the news media and bloggers galore debated the need for gun control and automatic weapon bans while others discussed poor parenting, the breakdown of mental health systems and Asperger syndrome. Like many healers, I felt compelled to offer my services as a Healing Touch practitioner to those families and individuals so horribly affected. I just wasn't sure how.
Meanwhile in Newtown, Heather Rivera-Gunn, the daughter of an art teacher who was present at SHES that day, conceived the idea of the Sandy Hook Healing Project. A joint venture of the Grassroots Fitness Project from NYC and The Gym from Southbury, CT, this non-profit effort's goal was to bring healing of all kinds to the community of Newtown.
I received an email from fellow friend and healer Debby Stein about the project and emailed back to a contact person, Kellie Brooks. During the late afternoon of Friday, December 21, I drove up to Newtown. After exiting the parkway, I noticed almost immediately the now familiar roadside outpourings of love and emotion: Wooden angels on a hillside, flashing signs thanking heroes and blessing children, flags, flowers and other expressions of grief and sorrow.
In less than one week's time, a vacant warehouse had been transformed into a love filled healing center complete with tables set up with food and beverage donations, a gathering/conversation area, massage chairs and a children's art area. Individual treatment rooms with names like Hope, Harmony and Tranquility were set up as sacred spaces with massage tables, chairs, candles lights, blankets and music. Upstairs, yoga and movement classes were also being offered by volunteer instructors. The tone was somber but hopeful. Hopeful that people would come and experience some love, some healing, some thing to help ease their pain.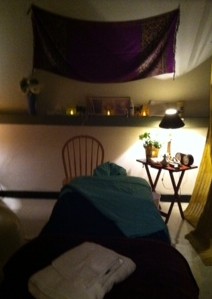 Upon my arrival, I was greeted by volunteers who were registering practitioners and keeping track of the scheduling for the coming week. This was the opening day of the center and the organizers weren't sure how many people would come. Heather's parents came in and a few others who were ushered into rooms. Among the practitioners present were a counselor, chiropractor, massage therapists and energy healers. The practitioners present were encouraged to work on each other or other volunteers. I observed Heather receiving Reiki and I did a Healing Touch spiral meditation on one of her good friends. Having worked nonstop the previous seven days, they were very grateful to be able to relax for a few minutes and receive our gift of healing.
Debby and her HT Community of Greenwich colleague, Roberta Tachihara, visited the center over the next few days and had the opportunity to do Healing Touch on a number of people who had been at the school. During the course of the next week over 300 community members received healing services, counseling or just the chance to talk with others.
While the doors have now officially closed, the efforts of the Sandy Hook Healing Project will continue through healing workshops, support groups, wellness seminars and gatherings. To learn more, visit the Sandy Hook Healing Project Community Facebook page. https://www.facebook.com/pages/The-Sandy-Hook-Healing-Project/572611979422987?fref=ts
If you build it, they will come, and they did.
The Healing Presence
By Victoria Stewart, HTCP/I, HTACP

I have been a Healing Touch Certified Practitioner for 10 years and have a full-time practice out of my home in Oxford, PA. I would like to tell a story of an event I attended, what happened, and what dawned on me in retrospect.
Oxford, PA is a very small rural town. There are many Amish farms mixed in with communities of people.  I have lived here for 7 years and really enjoy the peacefulness and spaciousness and lots of wild life. Two years ago I decided to join the Oxford Chamber of Commerce so I could showcase my business and rub elbows.
This past year a Super Wal-Mart and a few strip stores popped up in Oxford.  There are also a few more banks in that shopping area.  I decided to respond to an open house that one of the newly opened banks was holding. When I arrived, I did not know anyone there. The hosts had name tags for people who had registered. I picked my name tag up and noticed that it not only had my name on the tag but it also had my professional title on it, Energy Therapy Specialist.
Many people attended this event and there was a guest speaker who talked about the covered bridges he had studied for years in the Oxford area. During a Q&A session about the bridges I answered one of the questions, and I actually guessed the correct answer! This brought some attention to me and people came to me and made a comment on how would I have known that? A conversation started with a young lady named Brenda and she asked me what Energy Therapy Specialist was so I started to explain about Healing Touch. Brenda made mention to me that she noticed how she felt when she engaged in the conversation. She started feeling better and not as scattered. We exchanged our business cards and decided to continue the conversation after a work deadline she had hanging over her head. 
I then noticed Amy, who I actually knew.  Amy was talking with another lady that I had never met so I walked over to them. Just as I arrived, their conversation ended and Amy introduced me to Betsy, and Betsy asked me what Energy Therapy Specialist was. Again, I started talking about Healing Touch and explaining to her how Healing Touch began.  Betsy told me that she has MS and asked if Healing Touch could help with that. I explained to her that I have a client who has MS that I am currently working with and she has had great results. We decided to continue this discussion in a week or two as the event was wrapping up. Betsy then remarked as to how good she felt when I came over to talk with her. She said "I feel good just being next to you".
As I was leaving the bank and walking back to my car, "Healing Presence" came to me. Is this how I walk through life?
Theoretical Basis for Healing Touch: Therapeutic Presence, Compassion, Heart-centeredness, Humility, Non-judgmental attitude.