HTP CEO/Program Director Letters
HTP CEO/Program Director Letters
July 2013 Letter from the Program Director
Dear Healing Touch Community,
July Greetings!  Welcome to my summer office space!  I'm loving bringing my computer and phone out to the front porch of my house where I do Healing Touch writing and calls while listening to the birds singing and gazing upon the green trees, flowering plants and blue sky.
DID YOU KNOW that your Healing Touch Worldwide Community in Japan is rapidly growing? I just received the below brief report from my friend and colleague, Rumi Hashimoto RN, MSN, HTCP/I, who over the last three years has taught more than 300 students (75%+ Nurses) Healing Touch Levels 1 – 3! She is now on a month long HT Japan tour teaching Levels 1 through 3 in universities, professional nursing and health care settings, giving presentations and building community….
"Please allow me to express my sincere appreciation for your continued support and understanding as we move forward to support the expansion of Healing Touch in Japan.  Katrina and I welcome and enjoy the opportunities to share Healing Touch with the wonderful people of Japan. We will be leaving for the southern part of Japan in few days to start our month-long HT tour in Japan.   Our first opportunity to share HT will be at the 28th Annual Conference of the Japanese Society for the Study of Nursing and Social Work in Fukuoka, Japan.  We will connect with Conference participants through a Healing Touch Japan exhibit booth and I will be presenting a keynote lecture on HT and self-care.  We will then offer Level 1 following the Conference, which is the first of eight Healing Touch classes we plan to teach this summer.  We will keep you posted on our journey as we travel throughout Japan, which will take us from the northern most island of Hokkaido down to Okinawa in the south! Thank you again for your leadership and support. With Gratitude, Rumi"
Rumi just received her training to teach her first Level 4 class in Japan. Last year she presented at Jean Watson's Caring Science Institute Conference in Hiroshima, Japan.  Four years ago, she and Katrina Shibata, MPH, CHES, HTP, founded the Hashiba Institute in Long Beach, California, where they teaching Healing Touch classes when not sharing the work in Japan. Follow their travels through Japan at www.facebook.com/hashiba.institute.
UPDATE: Healing Touch Integrative Care Program: Integrating Healing Touch in the Clinical Setting. This is a comprehensive manual that provides the structure and necessary tools needed to implement Healing Touch in a clinical setting. It was developed through a collaborative effort between Healing Touch Program and Lourdes Lorenz, RN, MSN, NEA-BC, AHNA-BC, HTP-A, Director of Integrative Healthcare  at Mission Hospital in Asheville, NC.
Since we announced the availability for purchase of this manual in last month's Community News, there has been much excitement in our communities for using this tool to introduce and establish Healing Touch Program in various health care facilities. The introductory price continues through July 31, 2013, so if you or your local hospital, hospice or other type of health care facility are interested, now is the time. To read more about this comprehensive much-awaited tool, click here. https://www.healingtouchprogram.com/index.php?option=com_content&view=article&id=188 The manual was featured in the July HTPA call so you can listen to the recording if you missed it. Visit the HTPA website: http://www.htprofessionalassociation.com/monthly-support-calls.
Thank you for being part of our HT worldwide community! We hope to see you at one of the six regional conferences planned between now and 2014. Click here for the dates and locations.
Smiles and Blessings!
Cynthia Hutchison
Healing Touch Program Director
June 2013 Letter from the CEO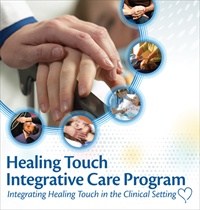 Greetings wonderful Healing Touch Community,
HTP has exciting news for this issue of the Community News. We are thrilled to announce that the Healing Touch Integrative Care Program: Integrating Healing Touch in the Clinical Setting (HTICP) manual was unveiled at the American Holistic Nurses (AHNA) Conference at the beginning of June in Norfolk, VA. This comprehensive manual provides a step by step process and the tools necessary to implement Healing Touch in hospitals, clinics, hospices and other healthcare facilities. The HTICP takes us one step close to realizing Janet Mentgen's goal of having Healing Touch in every healthcare facility. The manual received rave reviews at the conference and we sold copies there. Look for additional information provided below in the newsletter.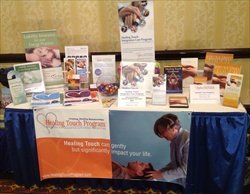 The HTP table at the AHNA conference was loaded with our products and information and it was a testament to how much we have accomplished the past year. The HTICP manual, updated class notebooks and Sounds True Products garnered much excitement and interest and the feedback we received was wonderful.
We are nearing the end of our curriculum updates and Level 2 will be the final notebook to be updated. We anticipate the new Level 2 notebook to be ready towards the beginning of fall. There have been many additions to each notebook Level 1, 3 and 4/5 notebooks and we encourage you to purchase updated notebooks for your reference and library. To order an updated notebook please call the HTP office.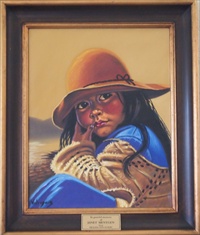 We are settled into the new office space and it is fantastic. The staff loves the extra room and I am thrilled to have Janet's books and items extending her energy everywhere. We have been hanging art work that we moved from the Colorado office and have framed some pictures that have been waiting for a place to be displayed. The Peruvian girl was a gift from Healing Touch Peru and the plaque says "In grateful memory of Janet Mentgen from Healing Touch Peru."
Happy Summer Solstice to everyone. As we celebrate the longest day of the year in the northern hemisphere we send blessings of love and light to each one of you.
Thank you for the gift you are to Healing Touch.

Lisa Mentgen Gordon
HTP CEO
April 2013 Letter from the CEO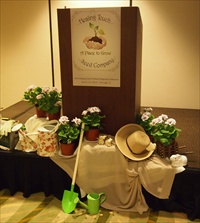 Spring is here and the beautiful blooming flowers, growing vegetables and leafing trees mirror the growth and blossoming that is happening with Healing Touch. This month we had our first regional conference in Chicago, IL and it was wonderful! Thank you to the planning committee and volunteers who did an outstanding job, to the fabulous speakers, the many attendees and the exhibitors. Together you made the Midwest Regional Conference a huge success! I am always thrilled to be able to be with the members in our community and to share in your enthusiasm and commitment to Healing Touch.
The 2014 Worldwide Healing Touch conference will be in the same Hyatt hotel in Schaumburg, outside Chicago and we are busy planning for it. Stay tuned for information on speakers and registration information. The next regional conference will be in Denver, CO, August 23 -24, with the annual instructor gathering following on August 25th.
The NCCA accreditation application is almost ready for submission. We are incredibly excited about this and the opportunities it will provide our certified practitioners. We will provide updates as we have them. Members of the community are looking into insurance billing codes for Healing Touch and also having Healing Touch be continuing education for physicians.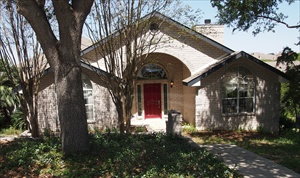 Some very exciting news! The office has moved out of our home and into its own location in San Antonio. This is a giant step forward and offers HTP opportunity for growth and expansion. The staff loves the extra room as we have about three times the space! I have gotten many of Janet's stored items out of their boxes that they have been in for almost five years. It is very enjoyable to open and explore her book collection, Janet's journals and the crystal bowl set. In addition, we had office furniture in storage including Janet's conference table.

We now have a great space for holding meetings and planning sessions, and we have a treatment table set up for HT exchanges. Thank you to every student, practitioner and instructor who brings Healing Touch to others. We are grateful for you and it is always our pleasure to support you!


May 2013 Letter from the Program Director
Dear Healing Touch Community,
Healing Touch Program is excited to inform you that we have submitted our application for the National Commission for Credentialing Agency (NCCA) accreditation. This application represents four years of hard work on the part of many Healing Touch Certified Practitioners (HTCPs) dedicated to achieving this highly esteemed credential. NCCA accredits a variety of certification programs/organizations that assess professional competence.. Achieving NCCA Accreditation for the HTCP credential would allow certified practitioners, whether they are licensed health care practitioners or not, to represent themselves as credential holders of an accredited profession. Review of the application may take up to six months, so in the meantime, we invite your positive thoughts and prayers.
Healing Touch Program is enjoying growing recognition in the holistic consumer market with four products from Sounds True Publications. In 2011, they published Dorothea Hover-Kramer's Healing Touch Guidebook. In 2011, they published a 2-CD set on Healing Touch Meditations: Guided Practices to Awaken Healing Energy for Yourself and Others. And recently, they published two new Healing Touch Program products, a DVD titled, Healing Touch for Beginners: Energy Practices for Self Care and a multi-media home study course titled, Healing Touch: Energy Therapy for Self Care. The kit includes a workbook, deck of cards, DVD and CD. Many of you have already seen copies of the DVD on the shelves at Whole Foods and bookstores.
HTP is holding five regional conferences in 2013 and are in the midst of planning our 2014 Worldwide Healing Touch Conference to be held in Chicago August 14-17, 2014. Many HT Instructors will join us at the upcoming Rocky Mountain Regional Conference (August 23-24) where we will hold an instructor gathering for training, networking and celebrating on August 25th. The Midwest Regional Conference held in Chicago at the beginning of April was very well attended and successful. The remaining regional conferences are advertised in the newsletter.
As we move forward with many exciting endeavors, we thank each and every one of you in our community. You are the lifeblood of Healing Touch.
Blessings,
Cynthia Hutchison
Healing Touch Program Director
March 2013 Letter from the Program Director
Dear Healing Touch Community,
Spring is springing in the northern hemisphere and my spirits are light and full of hope and anticipation. So many exciting things are happening for the Healing Touch Program worldwide community. Many of you have been actively involved in multiple projects that have supported the ongoing growth of HT at the community, regional, national and international levels.
Here are just a few highlights:
1. HTP has two newly published Sounds True Productions Products:
• Healing Touch Energy Therapy for Self-Care Home Study Course
• Healing Touch for Beginners: Energy Practices for Self-Care
Both feature Janna Moll, HTCP/I. Sounds True is a highly esteemed company which has been producing audio products and books in the field of holistic health, body-mind-spirit topics, energy medicine and spirituality for almost 25 years with the works of prestigious names in the field such as Caroline Myss, Cyndi Dale, Thich Nat Hahn and many others. Having four products with ST is important name recognition for HTP. Click here to visit HTP's Sounds True Store with its other HT products.
2. We have five regional HTP conferences planned this year so that more students and practitioners can have the opportunity to gather with member of the HTP community to network, support each other, share information and wisdom, learn and celebrate our community. Regional conferences are shorter and more affordable, and are just as fun as fulfilling as our worldwide conference. (Next Worldwide Conference is August 2014 in Chicago).
3. Healing Touch Program is close to submitting our paperwork for the next national accreditation with the National Center for Competency Agencies (NCCA) which will establish HTCP as a credential in health care providing ALL our certified practitioners recognition as a professional energy medicine therapist in the specialty of Healing Touch.
4. Our new HTP Hospital Manual to guide the implementation of Healing Touch into health care facilities is in its final writing stages. We are very excited about announcing its release in the next few months.
5. HTP's newly revised Level 3 curriculum notebook will be available next month. Like Level 1, it has been greatly enhanced with a more comprehensive presentation of Barbara Brennan's theory and teachings, more in-depth discussion of what it means to have an aligned hara through the Hara Alignment Meditation, and additional articles for student support. Level 2 is in the process of revision and should be available by late spring. Technique Review Cards have also been revised and enhanced. See next month's issue of HT Community News for ordering information.
6. The HT Professional Association Community Connections is growing rapidly! Our HT Professional Association is expanding with Local HTPA Chapters forming worldwide and continues to explore exciting opportunities for the Volunteer Bank to actively participate in while creating deeper relationships with other professional organizations to exchange resources. ALL are invited to join!
Thank you for all that you do to bring Healing Touch to your community! Please let us know how we can support you and your efforts!
Smiles and Blessings,
Cynthia Hutchison, HT Program Director