Speakers/Activities
Keynote - The Light that Bridges the Gap: ​Crossing Through the Dark to Wield the Light
With Cyndi Dale
The difference between our human and divine awareness can leave us feeling confused and ill-at ease and sometimes unable to clear the blocks that are preventing us from showing up fully in our own lives and for our clients.
Try as we might, it can be hard to zero in on what gets in our way in terms of the use and effectiveness of our abilities as healers. We KNOW the light is there. It IS more powerful than the dark. How do we best understand, and even more importantly, grasp our own inner light, as well as the central light of the world, so it works for good and highest outcome?
By not utilizing the availability of light inhibits our effectiveness with clients and prevents us from activating our full spiritual powers, which could be used to make our own lives more dynamic and also, maybe literally, enlighten the world. ​
In this presentation you will explore the conceptual understanding of cosmology necessary to understand why the world seems so dark and why it's hard to totally grasp and use our gifts. Learn specific techniques that clear the resistance (our own and others) and make completely available this light or power of goodness.
In this presentation discover:
The Nature of Light both scientifically and spiritually so that you can utilize the Light to shift the universe, society, our clients' lives, and our own personal lives, from negative and destructive to positive and illuminating.


Explore theories of the macro (universal) and also micro (molecular) levels of existence and the "gaps" between the heavenly and the "fallen" to better understand why healers are so uniquely positioned to part the veils and bring through the energies already available to forge changes so necessary during this time.


The use of spiritual qualities, which Cyndi calls Healing Streams of Grace, to access the true powers available to all ​so you can be fully empowered in your personal and professional lives; as healers; and operate as a point of change within the world. Always available, these streams can do anything, anywhere, and "anytime."​


The frequency-altering music of Dr. Michael Scroggins and John Inmon so that you ca​n experience the personal and transformative shift of "filling the gap" or closing the holes between the heavenly and "fallen" states.
​
Experience a guided meditation for parting the veils and transforming darkness into light so that you ca​n more fully active your divine gifts of light.​
Be ready to grasp the truth of your divine power and through understanding the reasons that this world feels so dark, reach through any and all personal and earthly barriers to unlock and wield the light available for good.
Plan to stay Sunday afternoon for Cyndi Dale's 3-hour Master Class on Sunday afternoon Miracles: Yours to Receive, Yours to Deliver. See the post conference page for the Master Class description.
Meet Cyndi:
Cyndi Dale is an internationally renowned author, speaker, and healer, and the author of 25 books about energy medicine, intuition, and spirituality. In addition, she has worked with over 65,000 clients and presented hundreds of seminars across the Americas and in Russia, England, Wales, Amsterdam, Iceland, Costa Rica, Belize, Morocco, Peru, Scotland, and more.
Her books include The Subtle Body: An Encyclopedia of Your Energetic Anatomy, the winner of four international Publisher's Awards. Recent titles include Awaken Clairvoyant Energy (2018); The Subtle Body Coloring Book, The Little Book of Chakras, and Subtle Energy Techniques (2017); and Llewellyn's Complete Book of Chakras, the largest compendium of chakra knowledge (2016).
---
Keynote - Living in Flow: The Science of Synchronicity and How Your Choices Shape Your World
With Sky Nelson-Isaacs
If you're like most people, you've had a meaningful synchronistic experience at some point in your life. You may have been randomly thinking about a friend, and out of the blue, you get a phone call from that person. Most brush this off as pure chance, but physicist Sky Nelson-Isaacs is researching the science behind this phenomena.
Referring to a cutting-edge scientific theory of synchronicity, Sky Nelson-Isaacs presents a model for living "in the flow"--whether at home or at work--which allows for a more flexible relationship with daily experiences and can bring harmony and fulfillment into your life by aligning with circumstance.
Synchronicity is a powerful tool for healing and growth, if you know how to spot the meaningful circumstances that act as practical guideposts through the healing process. By becoming aware of nature's responses in the form of synchronicity, we can be guided to uncover hidden feelings, which can then be healed through a renewed ability to choose consciously, revealing our authentic nature.
In this presentation discover:
The LORRAX process so you can get into flow, discover and connect clues in daily life (your own or your client's) to facilitate healing and growth.


The power of our own choices to determine an effective solution to a client's illness. See how proper treatment emerges naturally and is partly determined by the very choices the practitioner makes. "Right" is determined by both the practitioner and the client working together in flow.


Why obstacles and surprises can serve as sources of useful information.


A meditative practice to recognize the unnoticed opportunities for change in the practitioner's life or client's life.
Aligning with circumstances by getting into flow is the natural way to meet the needs of all components of a system, whether that is within the human body, between people, or in the wider community.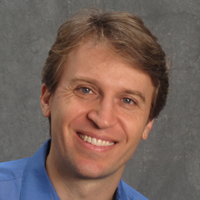 Meet Sky: (OVER 900 people registered for Sky's HTPA call - you will get to meet him in person at the 2019 Conference!)
Sky Nelson-Isaacs has a M.S. in physics from San Francisco State University. His research into the foundations of quantum mechanics has led to a model for synchronicity based on a process called "meaningful history selection" and a book due in Spring 2019 titled "Living in Flow: The Science of Synchronicity and How Your Choices Shape your World." Sky advocates using synchronicity to get into a state of flow in order to address daily challenges. Sky is also an award-winning songwriter and performer. His most recent album, "The World Ocean," is inspired by dreams about the rising of our oceans. His writings, research and music can be found at www.skynelson.com.
---
Keynote - Mutual Vulnerability and Community Building: Enhancing the Way You Practice by Accessing Your Personal Stories
With Zelda Lockhart
Many of us in the helping professions work on improving our skills by working on becoming more adept and understanding what the client needs that we can provide. We often approach this deeper understanding by asking the client to tell us their symptoms and the stories they are carrying that may be impacting their wellbeing. In other words, we find ways to help our clients be more vulnerable and transparent so that we can comfort, heal and fortify them.
In order to effect change in our world: among our clients, staff, and community members, we must have a working familiarity with our own lives. What are your personal stories? Developing ways to better serve our clients starts with knowing our individual stories so that we are not surprised by reactions or ways that we were triggered because we did not know where our own trip wires were set.
In this interactive presentation:
You'll explore your own personal plot so that you can use it as a tool to tap into your internal wellspring source so that you can intentionally manifest your gifts wherever you go, and with whomever you work.


You'll gain insight on how to build individualized solutions to challenges as opposed to attempting solution based solely on the expectations of roles and professional titles.
Workshop - Hopes & Fears: Capitalize on Your Gifts in the Client/Practitioner Relationship
With Zelda Lockhart
We'll explore the source of your wounds and gifts related to your hopes and fears so that you can intentionally capitalize on your gifts when helping your clients, and manage any triggers related to your wounds when working with your clients.


Discover how to make parallels between your personal and professional frustrations and successes through the plots of your own stories.


You'll gain insight and tools so that you can build individualized solutions to challenges as opposed to attempting solution based solely on the expectations of roles and professional titles which can be modified to be utilized in their healing practice.


Through these writing activities you'll gain long-term professional growth and a means by which manage persistent professional obstacles.
Workshop - The Relationship Museum: Building Community Through the Mutual Vulnerability of Shared Stories
With Zelda Lockhart
Discover a new way of looking at what you cherish in this physical world and why.


We'll explore tools on sharing your stories in an indigenous storytelling fashion where the words of one inspire the experiences of another.


Understand and encourage Object Relations Work with your clients in your healing practice so that you can create a deeper connection with them.
Dr. Lockhart utilizes humor and the irony of our dichotomies as the opportunity to laugh about our shared human dilemmas to gain a better understanding of our ability to engage in transformative work in the lives of others by engaging in transformative work in your own life utilizing your personal plot as the tool.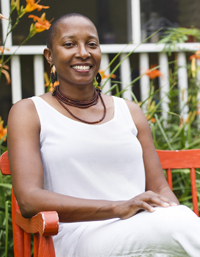 Meet Zelda:
ZELDA LOCKHART holds a PhD in Expressive Art Therapies, an MA in Literature and a certificate in writing, directing and editing from the New York Film Academy. Her latest book, The Soul of the Full-Length Manuscript takes readers on the emotional, psychological and spiritual journey of utilizing personal stories to transform their lives while completing a work of fiction, memoir or poetry. Other books authored by Zelda include: Fifth Born, Cold Running Creek and Fifth Born II: The Hundredth Turtle.
Zelda is Director at Her Story Garden Studios: Inspiring Black Women to Self-Define, Heal, and Liberate Through the Literary Arts. She is also publisher at LaVenson Press helping women and girls to take ownership of their stories through publication. She continues her work as a writer and speaker, facilitating writing workshops across the US on issues specific to the human struggle and on ways that consuming and creating literature are good for what ails us.
---
Keynote - One Heart at a Time: How Music Can Heal Yourself and the World
With Karen Drucker
Each of us has a unique and special gift to give to the world but sometimes the responsibilities of our lives get in our way and it's just overwhelming. But we all know the truth: we can't really help or heal anyone else until we have taken care of ourselves. So how do we do that – how can we heal ourselves and also have enough left over to give to our clients and the world?
One-way is to notice how you start your day: the thoughts and feelings you have set the foundation for how your day will unfold, and using positive messages coupled with music is a great way to start!
In this musical presentation you will discover how using music, humor, and spiritual practices can set you up in a positive tone so that the gift you give to the world is from your authentic self.
Singer-songwriter-speaker Karen Drucker will share songs and stories about how you can use the healing power of music to uplift and inspire ourselves and also our Healing Touch clients. When a piece of music or lyrics to a song go right to the heart of what your client needs to hear, it can facilitate you as a healing touch practitioner to give them a total healing experience…and that is how we heal the world – one heart at a time!
WARNING: singing, laughing, maybe some tears, and connection will be part of this experience!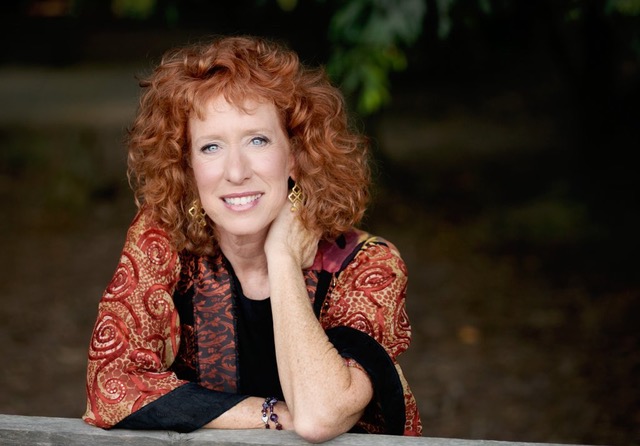 Meet Karen:
Karen Drucker's message is all about healing and love.
Whether she is singing one of her positive message songs or chants or telling stories that are funny, insightful or heart opening as a keynote speaker, her main intention is to make a difference.
Karen has recorded 13 CDs of her original inspirational music, 7 compilation CDs, and is the author of an inspirational book, "Let Go of the Shore: Stories and Songs That Set the Spirit Free." Karen's chants are widely used around the world and often help people deal with illness, loss, or just help them center for the day. She is an award-winning songwriter, has been a music director for many New Thought conferences and various churches, and received an Honorary Doctorate of Music from Centers for Spiritual Living, and a Grace Note award from Unity Churches. Karen uses her music to share a message of hope and acceptance. She loves making music, making a difference, and touching hearts.
---
Keynote - Attract and Serve More Clients Now
With Sharla Jacobs
Many Healing Touch Practitioners wish they could serve more clients and have more people attending their classes, but don't have enough of their ideal clients finding and hiring them. The key is to get both the Tools and the Transformation so you can change your story about your ability to attract enough clients and start earning a great living doing the work you love.
In this Presentation, you will discover:
3 mistakes many Healers make that keep clients away (and how to avoid them)


The 5 Elements that support your ideal clients to arrive at a fully aligned Yes to working with you


The most essential keys you must have in place to grow your client base


How Healing Touch Practitioners are using these skills to serve many more clients than before they knew them.
Join Sharla in this presentation and discover how to grow your level of service by attracting more clients you're your practice and classes.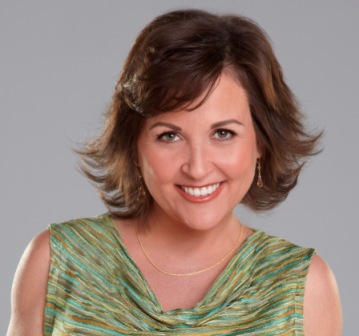 Meet Sharla:
Sharla Jacobs and her husband, Jesse Koren, are two of the world's leading authorities in teaching Coaches and Holistic Practitioners how to attract more clients. They've launched many of the most inspiring Transformational Leaders of today--and their clients have earned over 100 Million Dollars collectively (which means LOTS more people are getting the healing they seek)!
Their book, "The Art of Attracting Clients," has become an international hit that has inspired people all over the world to stay connected with their heart while enrolling new clients. To date they have awarded over 15 Million Dollars in scholarships to their life-changing, live event, the Client Attraction Summit.
---
Presentation - Sound Healing Gong Immersion: The Gateway to Heightened States of Awareness and Consciousness
With Kenneth Goff
Virtually everything on Earth vibrates. Quantum physics has shown that everything in the physical world of our five senses is made up of vibrating energy. Sound vibrations have a tremendous influence over our emotional bodies as well as our physical bodies.
Join us in the presentation where we discover the power and influence that sound has in our lives and how can be used in your Healing Touch sessions to facilitate or enhance the relaxation response and other healing responses of body-mind-spirit that can occur during session.
During this special presentation you will discover:
How sound healing affects the body-mind-spirit, through both a scientific, intellectual approach and through direct experience.


Explore the concepts of sound healing to the chakra system, body organs, the V-Element theory in Chinese medicine, to the relaxation response, brain waves and other physical, emotional, mental and spiritual responses.


Experience a the transformation power of a 50 minute Gong Immersion, which generates powerful multi-dimensional ripples of sound that grow into waves and bathe your entire body in streams of sound so that you can be in the state of total body/mind harmony.
BRING: blankets, pillows, or eye covers to enhance your relaxation response!
Gift yourself time to receive, relax and let go.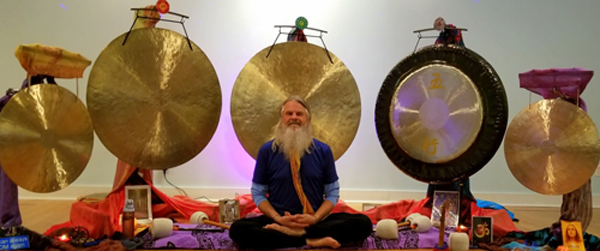 Meet Ken:
Ken's journey in life with the sounds of music began with the music of the 60's while he was growing up in Illinois. A lifelong journey as a musician with a spiritual/meditation practice, yoga and massage credentials set the stage for an introduction to wind gongs in Boulder, CO in 2012. From that magical moment to present, my life changed as yours have as I was also introduced to the Healing Touch journey.
I'm forever grateful. Forever in wonder and awe. Forever humbled to be the caretaker of these portals to the universe. What you experience does not have anything to do with the portal attendant but everything to do with the universe, us, holding space, listening, immersing, letting go.
Setting a personal intention is essential to gong immersions and I look forward to asking you to do so in February with the music of the spheres. Forever grateful to be part of 2019's Healing Touch Worldwide convention in San Diego!
---
Pinning Ceremony
If you are a practitioner or instructor who would like to be pinned at conference, of if you are an instructor receiving an anniversary pin, please download and return this form.
Healing Touch Talent Show
We are excited for the Saturday Night Talent Show at the 2019 Healing Touch Worldwide Conference! We have slots for acts up to 10 minutes in length. To get your act considered please fill out this form. We will choose based on content, variety and first come basis. Must be submitted by December 15, 2018.
Poster Presentations
Posters will be displayed in the foyer outside the main conference room and will offer continuing education hours. Posters may be research or non-research and should have Healing Touch, other biofield energy therapies or integrative medicine as the topic. Download and return this application to present a poster at conference.